3 April 2011
A Wonderful Summer ( Cudowne lato)
Sun 3 Apr, 2.30pm, £4.50 (£3.50)
Poland 2010 83 mins.  Dirs. Ryszard Brylski.  With Helena Sujecka, Cezary Łukasiewicz, Antoni Pawlicki, Marek Kasprzyk, Katarzyna Figura.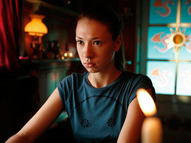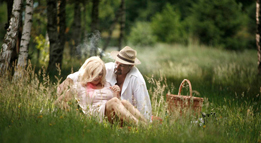 A romantic black comedy. Kitka (a fine and fiery Sujecka), was just a little girl when she lost her mother (Figura) in an unfortunate accident at the masonry-yard. Now, in her late teens, she makes her first life choices. Her maternal grandfather (Trela), her dour stone-carver father Edgar (Kasprzyk) and even her late mother (!) are determined to help the adolescent girl. However, suffering from the family trauma and in constant conflict with each other, they themselves seem to need help, which certainly does not make things easier for Kitka. Although she hankers after her father's shy employee, Rudy (Lukaszewicz), her grudge-carrying maternal grandfather schemes to marry her to the slick heir (Pawlicki) of her father's business rival. Meanwhile, a fortune teller materialises who holds the key to a mystery affecting father and daughter.
*    *    *
Pełna czarnego humoru komedia. Dlaczego czarnego? A co się może stać, gdy strzała Amora trafia w serca dwóch mężczyzn, a obiektem ich westchnień staje się umiejąca komunikować się ze zmarłymi, 18letnia Kitka? Pełna niespodziewanych sytuacji historia, która nie skónczy się w zwykły sposób. O względy dziewczyny rywalizować będą: Rudy (Cezary Łukaszewicz) i Konrad (Antoni Pawlicki), pracownicy konkurencyjnych firm pogrzebowych…. Nad wyborem Kitki czuwać będzie jej matka (fantastyczna Katarzyna Figura) – lokalna sex bomba, która zrobi wszystko, żeby losowi troszeczkę pomóc, włączając w to zaświaty…
Bardzo ciepło przyjęty przez krytykę i festiwalową publiczność obraz "CUDOWNE LATO", nagrodzony był w konkursie Hartley-Merill na najlepszy scenariusz.. W rolach głównych oprócz debiutującej na ekranie Heleny Sujeckiej,  niesamowita Katarzyna Figura, ktora wcieliła się w rolę dwóch bohaterek.
Film dopiero od miesiąca wyświetlany w polskich kinach!