31 March 2011
Venice (Wenecja)
Thu 31 Mar, 6.15pm, £4.50 (£3.50)
Poland 2010 110 mins.  Dirs. Jan Jakub Kolski.  With Magdalena Cielecka, Marcin Walewski, Agnieszka Grochowska, Grażyna Błęcka-Kolska, Julia Kijowska, Teresa Budzisz-Krzyżanowska, Mariusz Banaszewski.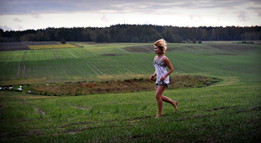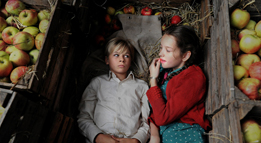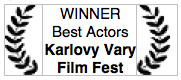 'Venice' is a magically beautiful adaptation of three short stories by Wlodzimierz Odojewski. It is the summer of 1939. Following the family tradition, 11 year old Marek is about to visit Venice for the first time, but when the conflict between Poland and Germany intensifies, he is sent to a small village to live with his aunts in a vast mansion. There, in a flooded basement, they recreate Venice which becomes a backdrop for emotional transformation of the film's characters. Somewhere between his dreams, Venice, and the war, Marek must prematurely transform from a boy into a man.
*    *    *
Marek kocha Wenecję. W jego rodzinie jeździ się do "wodnego miasta" od pokoleń. W Wenecji spędzali czas pradziadkowie, dziadkowie, rodzice Marka, a nawet jego 14 – letni brat Wiktor. Marek ma 11 lat, zna na pamięć nazwy wszystkich placów i ulic w Wenecji, ale sam nigdy nie był w ukochanym mieście. Nadchodzi lato 1939 roku. Te wakacje mają spełnić wielkie marzenie chłopca. Jednak nasila się konflikt z Niemcami, ojciec Marka trafia do armii, a chłopiec ląduje w odosobnionej willi ciotki Weroniki. Film J.J. Kolskiego (Jańcio Wodnik, Jasminum)  jak zawsze pełen magicznego ciepła, opowiada historię pewnej podróży, która się nie odbyła. To w zalanej "weneckiej" piwnicy, gdzie za oknem przewala się wojenna zawierucha, rozbudzone zostaną wielkie nadzieje i namiętności. Zwyciężca nagród na festiwalach w Gdyni i Montrealu oraz bydgoskiego Camerimage za wyjątkowe zdjęcia.
Więcej informacji o filmie można znaleźć na stronie: http://www.facebook.com/Wenecja
Mother Teresa of Cats (The dark side of good) (Matka Teresa od kotów)
Thu 31 Mar, 9pm, £4.50 (£3.50)
Poland 2010 94 mins.  Dirs. Paweł Sala.  With Ewa Skibińska, Mateusz Kościukiewicz, Filip Garbacz, Mariusz Bonaszewski, Monika Pikuła, Małgorzata Łata.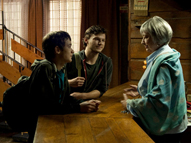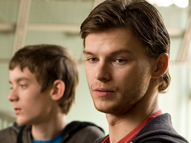 Based on a true story that made the newspaper front pages, Mother Teresa of Cats avoids falling into the trap of simply reconstructing the events that led to the hideous crime. Trying to understand the root causes of the tragedy of boys killing their mother, it focuses on a family collapse in  contemporary society.
Hubert, a professional soldier, who has just returned from a military tour in Iraq, lives together with his cat-loving wife Teresa, their little daughter Jadzia and two sons, older Arthur and younger Martin, a high school first grader. The family also hosts a distant relative, Eva, a Music Academy student, who takes care of the autistic Jadzia. A seemingly normal, apparently happy family. And yet…
One thing is certain – this thoughtful and intensely engaging award-winning crime drama, Paweł Sala's debut, leaves no-one indifferent.
*   *   *
Akcja filmu rozpocznie się w momencie aresztowania dwóch braci… Kolejne sceny odsłonią dni poprzedzające tragiczne wydarzenia i motywy zastanawiającej zbrodni…Mroczna, autentyczna historia, która miała miejsce w Polsce kilka lat temu.   Retrospekcja pozornie normalnej rodziny, w której nic nie wskazywało, że dojdzie do tragedii.
Reżyser Paweł Sala nie funduje jednak tutaj brutalnego obrazu, subtelnie podpatruje i ciekawie pyta o kondycję młodego człowieka. Czy to obecność zła czy brak aniołów i świętych?  Porównywalny do Długu, gorzki, ale fascynujący obraz, koło którego nie można przejść obojętnie.